Der WTZ Ost KommunikationsHub: Meine Forschung als Video geht in die zweite Runde.
Der KommunikationsHub 2017/18 an der Universität Wien bietet Studierenden und Nachwuchswissenschafter_innen die Möglichkeit, ihre Wissenschaft/ihr Forschungsprojekt/ihre Erfindung in kurzen Videos zu präsentieren. In Kooperation mit OKTO stellen wir Expert_innen zur Seite, die Schritt für Schritt den Prozess der Videoproduktion begleiten und beraten. Bewerben können sich Teams aus 2-4 motivierten Köpfen, die sich professionelle Unterstützung bei der Umsetzung ihres Videoprojekts wünschen. Gemeinsame Formatentwicklung erfolgt im Rahmen des Hubs. Der Hub richtet sich sowohl an Studierende und Nachwuchswissenschafter_innen der Natur- und Lebenswissenschaften als auch an Geistes-, Sozial- und Kulturwissenschafter_innen.
Hier sehen SIe die Videoprojekte unseres Hubs im vergangenen Semester.
Was Sie mitbringen müssen:
Begeisterung für Ihre Forschung!
Interesse an der Wissenschaftskommunikation!
Konkrete Vorstellungen, an wen Sie Ihre Forschung vermitteln wollen!
Was wir bieten:
Einführung in die visuelle Wissenschafts-kommunikation und Storytelling
Einführung in die Formatentwicklung und Videoproduktion
Professionelle Unterstützung bei der weiteren Umsetzung der Videoprojekte für 4-5 Teams
Ablauf KommunikationsHub 2017/18:
Der KommunikationsHub startet im November 2017 und endet im März 2018. Im Anschluss an den offenen Workshop "Das Wissenschaftsvideo" (Anmeldung online!) können Teams Ihre Bewerbung einschicken. Anfang November starten die ausgewählten Teams unter Anleitung von Videoexpert_innen mit der Umsetzung Ihrer Videoprojekte. Ende März werden die Projekte im Rahmen einer Abschlussveranstaltung präsentiert.
Hub meetings: 
1. Open Workshop: "Das Wissenschaftsvideo": 4. Oktober 2017
2. Storytelling & Media Training: 14. November 2017
3. Produktionstreffen #1: 20. November 2017
4. Produktionstreffen #2: 8. Jänner, 2017
5. Präsentation: März 2018
Bewerbung und Auswahlverfahren:
Melden Sie sich für den Workshop "Das Wissenschaftsvideo" auf der WTZ Webseite an, um mehr über Videoproduktion, Log-Lines und Storylines zu erfahren. Schicken Sie dann eine kurze Beschreibung (Log-line, Storyline!) Ihres Forschungsprojekts, welches im Video vermittelt werden soll (max. 1/2 Seite), zusammen mit Kurz-CVs des Teams bis zum 16. Oktober 2017 an johanna.kober@univie.ac.at. Ende Oktober werden die Bewerber_innen zu einer kurzen persönlichen Präsentation ihrer Projektideen eingeladen. Eine Auswahljury wird anschließend max. 5 Teams für die Teilnahme am Hub auswählen.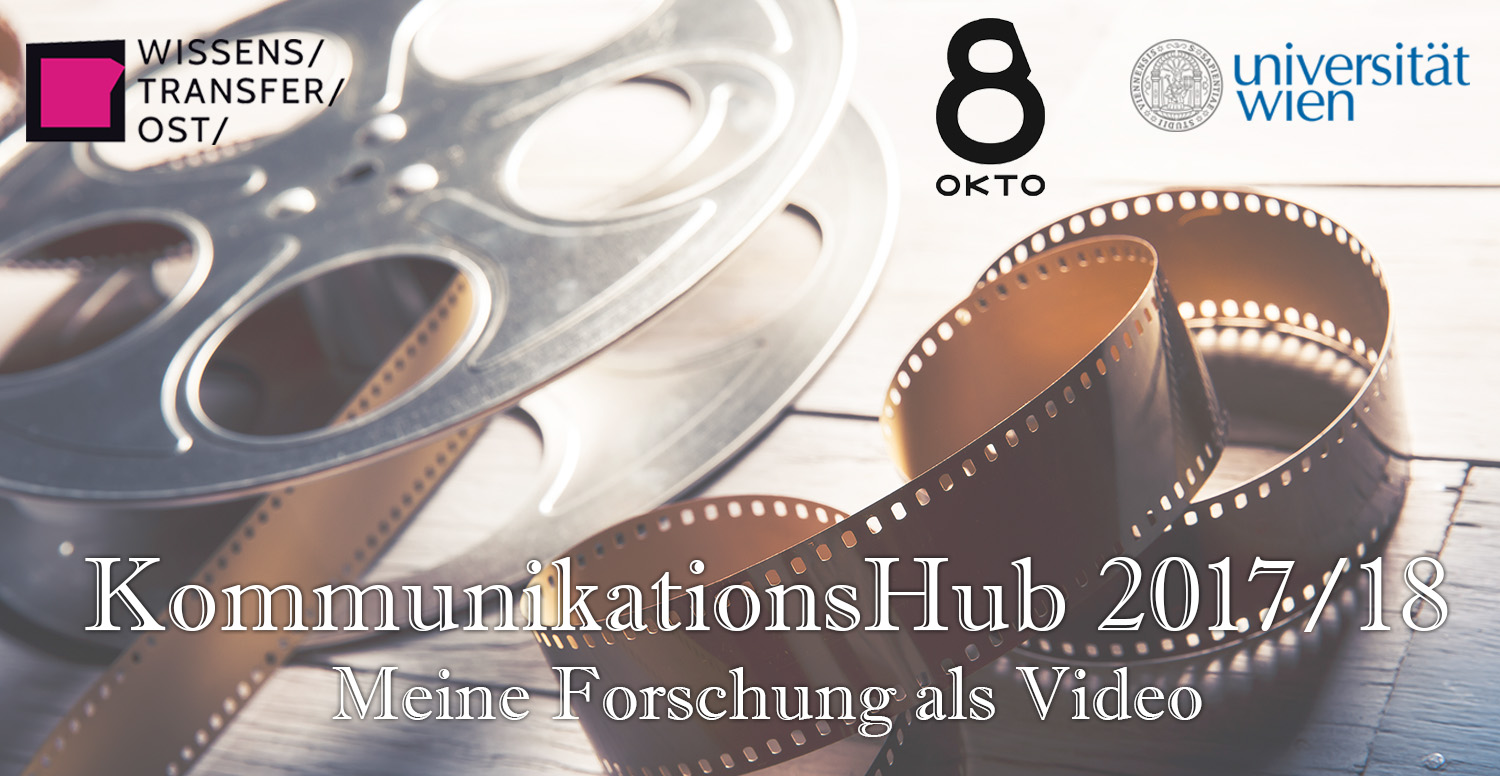 The CommunicationHub 2017/18: My research as Video at the University of Vienna offers students and young scientists the opportunity to present their science / research project / invention in short videos. In cooperation with OKTO Community TV, we offer you to work with video experts, who will accompany and advise you in the process of video production step by step. You can apply as teams of 2-4 people. The Hub is aimed at students and young scientists of the natural sciences and life sciences, as well as for humanities, social and cultural scientists.
What you need to bring along:
Excitement for your research!
Interest in science communication!
Concrete ideas to whom you want to convey your research!
What we offer:
Introduction to visual science communication and storytelling
Introduction to format development and video production
Professional support for the further implementation of the video projects for 3-5 teams
CommunicationHub 2017/18:
The CommunicationHub 2017/18 will be launched in November 2017 and will end in early March 2018. Following an open workshop on October 4th 2017 on video production (pls sign up online!), teams can send in their application. The selected teams will start working on their video projects under the guidance of experts in early November. Beginning of March the video projects will be presented as part of a final presentation.
Hub meetings:
1. Open WS "Das Wissenschaftsvideo": October 4th 2017
2. Storytelling & Media Training: November 14th 2017
3. Production meeting #1: November 20th 2017
4. Production meeting #2: January 8th 2017
5. Final presentation: March 2018
Application and selection process:
Please sign up for the open workshop "Das Wissenschaftsvideo" on October 4th, 2017 online to learn more about video production, Log-Lines and Storylines. Send your ideas and a short description (Log-line, storyline) of your research project / your invention, which is to be conveyed in the video (max. 1/2 page) together with short CVs of the team until October 16th, 2017 to johanna.kober@univie.ac.at. End of October, the applicants will be invited to a brief personal presentation of their project ideas. A selection jury then picks max. 5 teams to participate in the Hub.