Der KommunikationsHub: Wissenschaft für die Ohren  – mein eigener Podcast ist unsere Projektwerkstatt zur Umsetzung von Podcasts und Audiobeiträgen. Wir bieten Studierenden und Nachwuchswissenschaftler_innen die Möglichkeit, in enger Zusammenarbeit mit einem erfahrenen Experten, ihre eigenen Podcast-Projekte zu entwickeln und als Mittel zur Wissenschaftskommunikation einzusetzen.
Was Sie mitbringt sollten:
Affinität zu Audioinhalten
Interesse an Wissensvermittlung und Wissenschaftskommunikation
Neugier und Motivation, etwas Neues auszuprobieren
Was wir bieten:
Einführung in die Wissenschaftskommunikation mit Hilfe von Podcasts
Inhaltliche und technische Begleitung und Unterstützung bei der Entwicklung und Umsetzung
Feedback zu Audioproduktionen von langjährigen Wissenschaftspodcaster_innen
Hier geht es zu den Ergebnis unseres Pilot-Hubs im letzten Jahr: https://www.wtz-ost.at/news/wissenschaft-fuer-die-ohren-podcasts-selbst-gemacht/
Ablauf KommunikationsHub 2017/18:
Der KommunikationsHub startet im März 2018 und endet im Juni 2018. Im Anschluss an ein Kennenlernen im Rahmen eines Kick-Off Treffens arbeiten die Teams unter Anleitung von unserem Podcast-Experten an ihren Podcast-Projekten. Ende Juni werden die Projekte im Rahmen einer Abschlussveranstaltung präsentiert.
Termine:         
1. offener Workshop zum Thema Podcasting:  19. Jänner 2018
(Anmeldung unter www.wtz-ost.at/veranstaltungen)
Hub-Treffen:  
2. Kick-Off Treffen: 9. März 2018
3. Produktionstreffen (Updates der einzelnen Teams): 13. April 2018
4. Abschlusstreffen: tbd, Juni 2018

Bewerbungsfrist: 25. Februar 2018!
Bewerbung und Auswahlverfahren:
Schicken Sie eine kurze Beschreibung, worum es in Ihrem Podcasts gehen soll (max. 1 Seite), zusammen mit Kurz-CVs Ihres Teams bis zum 25. Februar 2018 an daniel.messner@univie.ac.at. Zusätzlich können Sie Ihre Bewerbung auch als Audiofile abgeben – indem Sie z.B. eine Probe-Episode aufnehmen oder Ihre Kurzbeschreibung einsprechen. Anfang März werden
max. 3–5 Teams für die Teilnahme am Hub ausgewählt.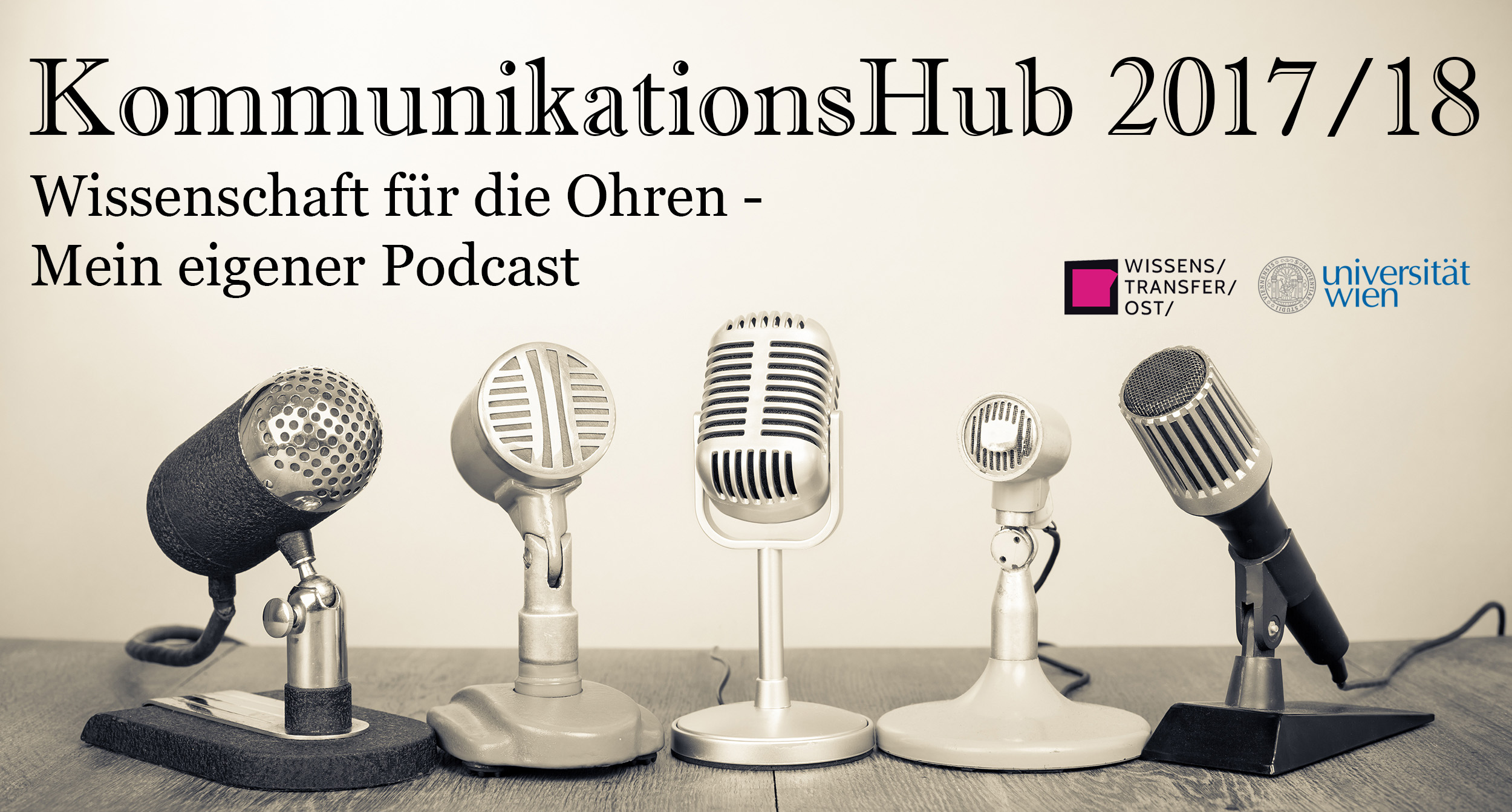 The CommunicationHub: Science for your ears – my own podcast is our training program for the implementation of podcasts and audio-related projects. We offer students and young scientists the opportunity to develop their own podcast projects in close cooperation with an experienced expert and use their podcast as a means of scientific communication.
What you should bring:
Affinity to audio content
Interest in knowledge transfer and scientific communication
Curiosity and motivation to try something new
What we offer:
Introduction to scientific communication using podcasts
Editorial and technical support and guidance in the development and implementation
Feedback on audio productions of long-standing science "podcasters"
CommunicationHub 2017/18:
The CommunicationHub will start in March 2018 and ends in June 2018. Following a kick-off meeting, the teams will work on their podcast projects under the guidance of our podcast experts. At the end of June, the projects will be presented at a final presentation.
Dates:              
1. open workshop "Podcasting":  January 19th
(please register at www.wtz-ost.at/veranstaltungen)
Hub Meetings: 
2. Kick-Off Treffen: March 9th, 2018
3. Production Meeting: April 13th, 2018
4. Final Meeting/Presentation: tbd, June 2018
Application deadline – February 25th 2018!
Application and selection procedure:
Please send a short description of your research, which you will produce your podcast about (up to 1/2 page), together with short CVs of your team until February 25th, 2018 to daniel.messner@univie.ac.at. You can also send us as an audio-file – record a short piece on your podcast idea! Beginning of March max. 3-5 teams will be selected to participate in the CommunicationHub.