VERANSTALTUNGEN
Im Rahmen der im Herbst 2014 neu geschaffenen Wissenstransferzentren in Österreich bieten die Universitäten und Fachhochschulen des Wissenstransferzentrum Ost ein interuniversitäres Weiterbildungsprogramm an. Das Veranstaltungssprogramm 2023/2024 des WTZ Ost widmet sich neuen Formen der Erarbeitung, Vermittlung und Verwertung von Wissen..

Diese Veranstaltung hat bereits stattgefunden.
Webinar: "How to win grants with Open Science?"
10. Dezember 2021 | 13:00

-

16:00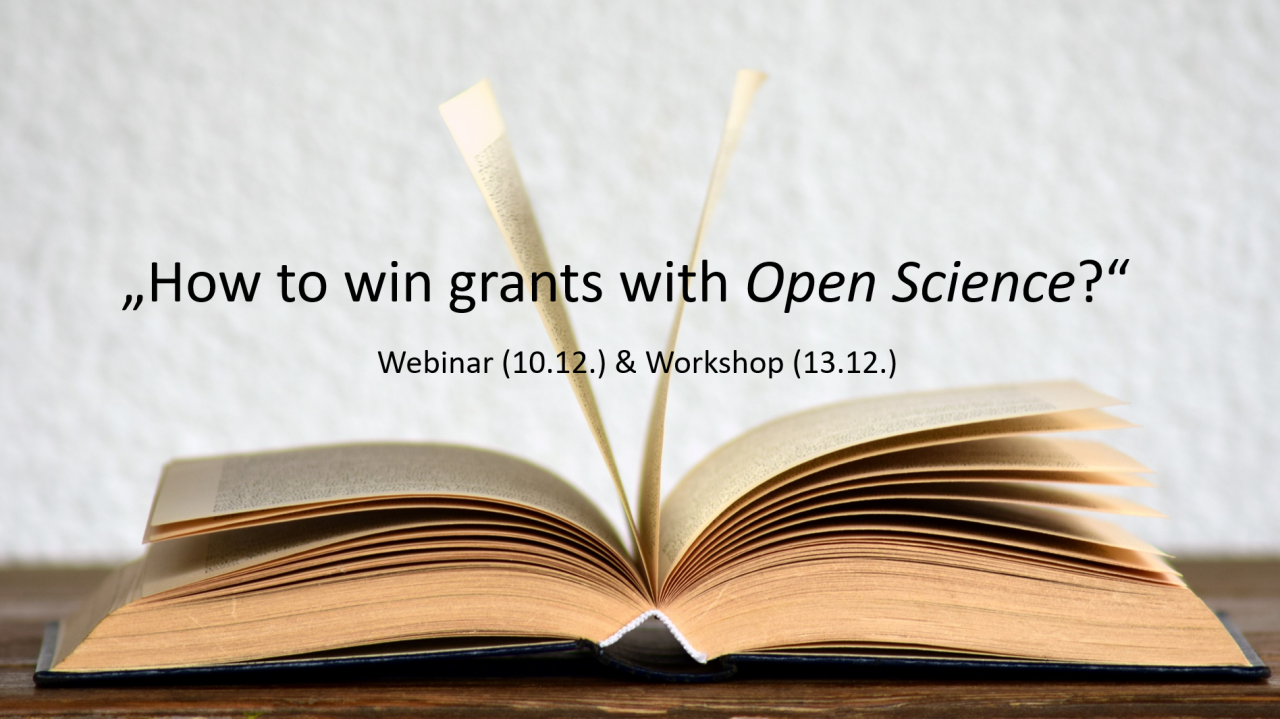 Spätestens jetzt, mit dem Start des EU Förderprogramms Horizon Europe, ist Open Science eine Voraussetzung zur erfolgreichen Antragstellung. Aber auch andere Fördergeber erhöhen ihre Finanzierung, wenn Projekte Open Science Methoden nutzen. Wissenschaft soll offen sein, Daten sollen zugänglich sein und die Bevölkerung soll miteinbezogen werden. Doch obwohl Open Science mehr denn je an Wichtigkeit gewinnt, ist die Definition und die Methoden, die dazu gezählt werden, oft unklar.
Im Webinar dieser Veranstaltung, die zur Gänze auf Englisch abgehalten wird, werden daher die wichtigsten Open Science Aspekte von Expert*innen vorgestellt und die Definitionen der unterschiedlichen Aspekte von Open Science der Europäischen Kommission erläutert. Diese Vorstellung soll Antragsteller*innen und National Contact Points eine Grundlage zur Umsetzung beziehungsweise zur Beratung zu Open Science Methoden bieten.
Aufbauend auf diese Basis wird im darauffolgenden Workshop direkt auf die Antragstellung eingegangen. Es wird gemeinsam an einem fiktiven Projektantrag für eine aktuelle Horizon Europe Ausschreibung gearbeitet, wobei wichtige Formulierungen beim Einbau von Open Science Methoden in den Antragstext unter professioneller Anleitung angewandt werden.
Die Veranstaltung wird im Rahmen des Wissenstransferzentrum Ost (Das WTZ Ost ist gefördert durch die aws, aus Mitteln der Nationalstiftung für Forschung,Technologie und Entwicklung (Österreich-Fonds).  ) in Kooperation mit der Österreichischen Forschungsförderungsgesellschaft (FFG) (gefördert durch das Bundesministerium für Digitalisierung und Wirtschaftsstandort und das Bundesministerium Klimaschutz, Umwelt, Energie, Mobilität, Innovation und Technologie) und im Rahmen des NCP-IP (Nationale Kontaktstelle für Wissenstransfer und Geistiges Eigentum) organisiert.
Das Webinar wird am 10.12.2021 um 13:00 – 16:00 Uhr, der Workshop wird am 13.12.2021 um 13:00-16:00 Uhr stattfinden. Beide Teile der Veranstaltung werden auf Englisch und online (via Zoom) stattfinden.
Webinar
10.12.2021 (13:00-16:00 Uhr)
max. 1000 Teilnehmer*innen
Vortragende
Ziele
Im Webinar bekommen Sie einen Überblick zu verschiedenen Open Science Methoden und wie diese angewandt werden können.
Teilnahmebedingungen
keine
---
English verison
At the latest now, with the start of the EU's Horizon Europe funding programme, Open Science is a prerequisite for successful applications. But other funding bodies also increase their funding when projects use Open Science methods. Science should be open, data should be accessible and the public should be involved. Although Open Science is gaining more importance than ever, the definition and the methods that are counted as such are often unclear.
In the webinar part of this event, which will be held in English, the most important aspects of Open Science will be presented by experts and the definitions of the different Open Science aspects  of the European Commission will be explained. This introduction is intended to provide applicants and National Contact Points with a foundation for implementing or advising on Open Science methods.
Building on this basis, the following workshop will deal directly with the application process. Together, we will fill out the form for an imaginary project for a current Horizon Europe call and discuss important formulations for the inclusion of Open Science methods in the application text.
The event is organised in the framework of the Wissenstransferzentrum Ost (Knowledge Transfer Centre East) (funded by AWS aus Mitteln der Nationalstiftung für Forschung, Technologie und Entwicklung (Österreich-Fonds)) in cooperation with the Austrian Research Promotion Agency (FFG) (funded by the Federal Ministry for Digital and Economic Affairs and the Federal Ministry for Climate Action, Environment, Energy, Mobility, Innovation and Technology) and in the framework of the NCP-IP (National Contact Point for Knowledge Transfer and Intellectual Property). The webinar will take place on 10.12.2021 at 13:00 – 16:00, the workshop will take place on 13.12.2021 at 13:00-16:00. Both parts of the event will be held in English and online (via Zoom).
Webinar
10.12.2021 (13:00-16:00)
max. 1000 participants
Speakers
Objectives
In the webinar you will get an overview of different Open Science methods and how they can be applied.
Prerequitsites for participation
none