VERANSTALTUNGEN
Im Rahmen der im Herbst 2014 neu geschaffenen Wissenstransferzentren in Österreich bieten die Universitäten und Fachhochschulen des Wissenstransferzentrum Ost ein interuniversitäres Weiterbildungsprogramm an. Das Veranstaltungssprogramm 2023/2024 des WTZ Ost widmet sich neuen Formen der Erarbeitung, Vermittlung und Verwertung von Wissen..

Diese Veranstaltung hat bereits stattgefunden.
Hackathon 2023: Vienna Climate Challenge
18. September | 13:00

-

20. September | 18:30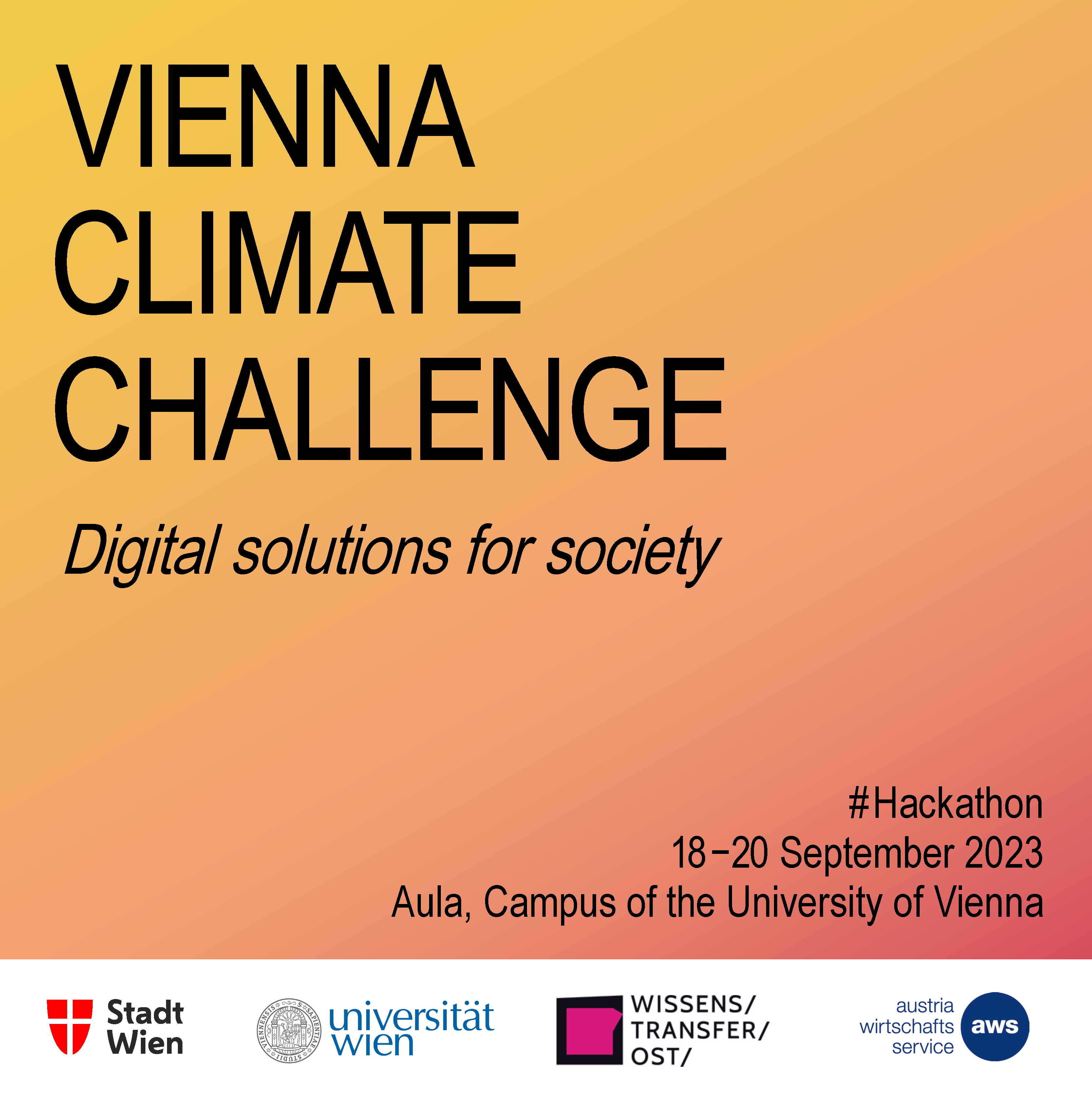 Are you interested in sustainable innovations?
Do you want to work in interdisciplinary teams?
Do you want to develop ideas to improve living conditions in sustainable cities and communities?
Do you want to apply your theoretical knowledge in developing of solutions to current societal challenges?
Vienna aims to be climate-neutral by 2040. The Vienna Climate Guide sets out the targets for achieving this. (Find more details at: https://www.wien.gv.at/spezial/klimafahrplan/) Determination, commitment, creativity and new ideas are needed to achieve climate neutrality. And that is exactly the goal of the Hackathon Vienna Climate Challenge 2023: Within this specific framework, bottom-up innovative solutions are developed to support Vienna on its path towards climate neutrality. Be part of it and help to make Vienna climate-neutral by 2040.
Take a look at the Hackathons in 2020 and 2021, organised within the framework of WTZ Ost as well as at a review of the Hackathon 2022.
Students and early career researchers from all disciplines can apply, either as a team or as individuals. Programming skills are welcome, but are not essential for participation (we are looking for prototypes or concepts for a possible digital solution).
Registration form and more information can be found here.