VERANSTALTUNGEN DES WEITERBILDUNGS­­PROGRAMMS
Im Rahmen der im Herbst 2014 neu geschaffenen Wissenstransferzentren in Österreich bieten die Wiener Universitäten ein interuniversitäres Weiterbildungsprogramm mit freiem Zugang an. Das Weiterbildungsprogramm 2017/18 des WTZ Ost widmet sich neuen Formen der Erarbeitung, Vermittlung und Verwertung von Wissen.

Diese Veranstaltung hat bereits stattgefunden.
Apply design thinking to your research
15. Januar 2016 | 9:00

-

17:00
Veranstaltung Navigation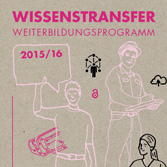 Apply design thinking to your research: ideation, problem and solution (Dieser Workshop wird in Englischer Sprache abgehalten)
This workshop will introduce participants to the basic principles of design thinking and will include exercises to apply the methodology to their research, careers and project management. Participants are encouraged to come to the workshop with specific research related "wicked questions" in mind. The workshop will include group-work, individual reflection and class participation. The methods and processes involved encourage you to think differently, allow you to develop ideas and abstract away from traditional approaches to research
Datum: 15.01.2016
Uhrzeit: 09:00 – 17:00
Ort: DLE Forschungsservice und Nachwuchsförderung
Berggasse 7, 1090 Wien
2. Stock, Seminarraum 2
Lead:
Joanna Young graduated from the University of Edinburgh with a BSc in Microbiology, an MSc in Informatics and a PhD in Neuroscience and Genetics. After obtaining her PhD, Joanna was a postdoctoral fellow for three years and following this she was awarded a Humboldt research fellowship. Joanna supervised many students during her time in the lab.